About the company
ZPHU Blachmix was founded on 20 May 1998 and carries out diversified activities, which can be divided into the following areas: trade in new and used metal machine tools, machine overhauls and spare parts, machine relocations and the provision of machining services, currently mainly for ArcelorMittal Poland S.A.
Distribution of new and used metalworking machines
One of the key activities of ZPHU Blachmix is the distribution of used metalworking machinery. We have an established position on the market for many years - our many years of experience as well as the high quality of our services means that the number of our satisfied customers continues to grow. We export machines to almost every country in the world. Blachmix is systematically expanding its range of new machines and is currently a representative of the Spanish manufacturer of conventional and CNC lathes, PINACHO, and the Taiwanese manufacturer of machining centres and CNC lathes, HANNSA.
The sale of new machines entailed extending our offer to include maintenance services, i.e. commissioning and repairs of all types of metal machine tools. Our advantage is a very experienced and stable crew consisting of several mechanics, including specialists in hydraulics and pneumatics of machines, two electricians, automation specialists and CNC operators. There is also room in our ranks for a painter who will refresh the appearance of your machine. We carry out fast and professional repairs of all machine tool components such as: lathes, milling machines, gantry milling machines, eccentric and hydraulic presses, boring machines, slotting machines, etc.
We also carry out machine tool upgrades on request.
We have specialised instrumentation and technical facilities - we have the necessary tools to perform this type of service. As one of the few companies on the Polish market, we have a laser interferometer in our technical facilities, which enables precise calibration of multi-axis and large-size machines. We have our own machine park with specialists in machining, which enables us to manufacture the necessary components for our needs. We also have our own transport.
Turnaround time depends on the degree of work specified by the customer or required to commission the machine tool. For simple faults, it can be up to 2 working days. In the field of CNC machine tools, we co-operate with specialists with almost every most popular control at the present time such as Siemens, Mazak, Fanuc, Fagor, Haidenhein.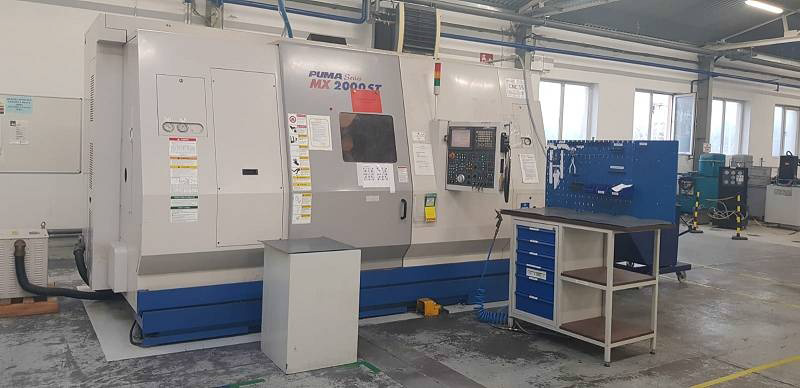 Machine renovations and relocations
We are constantly observing the changing market, studying the new needs of our customers. Therefore, in order to meet their expectations, since 2014 we have introduced new services in the field of overhauls of metalworking machines to our offer. We perform overhauls of lathes, milling machines, gantry milling machines, drilling machines, grinding machines, hydraulic presses, eccentric presses, edge presses, etc.
Our offer includes:
econstruction
modernisation
major overhauls of machinery
current repairs
emergency repairs
machine checks
Using its experience in repair and overhaul as well as machine manufacturing, it offers comprehensive relocation services for machinery, equipment and entire plants and industrial lines.
Our asset is our experienced crew: mechanics, electricians, automation specialists, plumbers. The stability of the crew means that our employees have several years of experience.
Our offer includes:
dismantling of machinery including disconnection from utilities
preparation for transport and loading
transport in Poland and abroad
organisation of oversize transport
assembly of machinery including preparation of foundation and installation
connection and commissioning of machinery and equipment
internal relocation of machinery and production lines
scrapping of machinery and equipment (we have the relevant permits)
design, construction and installation of additional infrastructure
maintenance and repair of machinery and equipment in industrial plants
work to restore the site after dismantling the machinery to its original state or for another use